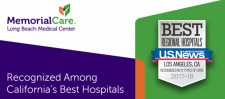 Vizzia Partners With Real-Time Location Systems (RTLS) Technology Leader Sonitor
LONG BEACH, Calif., July 12, 2018 (Newswire.com) - Vizzia Technologies, a leading provider of managed real-time location systems (RTLS) for healthcare organizations, announced that MemorialCare Health System has selected Vizzia and its RTLS partner Sonitor, to deploy a sophisticated patient workflow solution at MemorialCare's largest, most active Emergency Department (ED) in Long Beach, California.
Vizzia collaborated with its RTLS partner Sonitor to provide a fully-integrated ED Patient Workflow solution to address the advanced RTLS ED use cases for MemorialCare. The best-in-class patient flow solution seamlessly incorporates Vizzia's VIZZION℠ software platform and Sonitor's advanced Sense™ hardware technology to deliver bed-level accuracy in this active ED environment.
VIZZION℠ automates communications to the ED staff based on RTLS location and patient interaction data during each step of the healthcare delivery process to improve patient throughput and outcomes. Higher patient throughput and better outcomes reduce ED diversions and patients leaving without being treated (LWOT), which can be costly for any health system.
David R. Wiedman, Vizzia Chief Commercial Officer commented, "Vizzia's ED Patient Workflow solution integrates with MemorialCare's EPIC electronic health record system, automating key time-stamps and data-capture to help streamline the patient care process."
Long Beach Medical Center
Long Beach Medical Center ED is the largest of its kind in California and among the newest and most advanced in the United States. Long Beach's ED treats more than 100,000 patients each year. As one of Los Angeles County's original trauma centers, Long Beach is an adult and pediatric Level II Trauma Center.
About Vizzia Technologies
Vizzia is a managed service provider of real-time location systems (RTLS) and advanced wireless technology solutions (RFID) for healthcare organizations. Its software platform (VIZZION℠) provides real-time, actionable data and process visibility to improve enterprise efficiencies and patient outcomes for leading health systems, hospitals and clinics. Vizzia's healthcare solutions seamlessly integrate with industry-leading RTLS technology providers. For more information, please visit VizziaTech.com.
Source: Vizzia Technologies
Share: